Spare Parts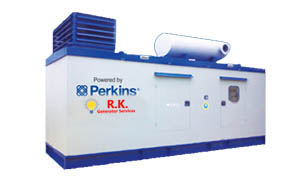 R.K Generators Service is a new name synonymous with Power. It stands tall within the Indian Power Generation Sector, delivering complete turnkey Electrical solutions via GENERATION, DISTRIBUTION to ELECTRIFICATION. An Industry leader in the field of setting up Diesel base Captive Power Plants upto 20MW featuring its corporate office in noida sec 5. it has leveraged its relationship with Ashok Leyland Ltd. to capture a majority market share. The Company features a wide blue-chip customer base and also operates through multiple manufacturing facilities across India and targets on Diesel & Gas Generators, HT & LT Switchboards, Transformers and also Turnkey EPC contracts.
I am engaged in offering a comprehensive selection of Gensets & Spare Parts, that's procured from reputed brand like Mahindra. It is manufactured using quality-tested material and is particularly extensively used in construction, farming & industrial applications. Backed through our customer friendly approach, currently our range of Gensets & Extra Parts at competitive prices. In your range, we offer the next:
Spares Parts For Gensets
We all hold expertise in providing Extra Parts for Gensets, which comes in varied shapes and dimensions. They are appreciated for their durability, higher functionality, reliability and offered from industry leading prices. In addition to the present, we are well-equipped with most up-to-date machinery & spacious workstation to try the repair of gensets.
Mahindra Gensets
We focus on providing an extensive range of Gensets, which is sourced by renowned names like Mahindra. It is manufactured using quality components and well-known due to the high efficiency, long service lifetime & reliability. Our range of Gensets finds usage in maritime, agricultural & industrial applications and is specially designed to ensure an efficient power supply. Other details in the product:
Mahindra's Direct Injection Engine
Each of our clients can avail from us all Direct Injection Engine, which is extensively utilised in utility vehicle and tractor segments. Procured from Mahindra, these engines can be serviceable and low on preservation cost. Direct Injection Engine offered by us is more fuel efficient and delivers just as much on the power front too as compared with other IDI engines. It is in great demand because of its following advantages:
Wet replaceable liners for extended engine life
Easily serviceable and low on maintenance cost
Structural cylinder block design to easily withstand heavy duty operations
No oil top up required between two services
Meets US EPA tier 2 emission norms